If we have provided services that were praise worthy..... Please write a review on Yelp! or HomeAdvisor Pro.
Security & Anti-Graffiti Window Film

---

You can count on Safety & Security Films for these valuable benefits:

Reinforce windows and glass doors
Designed for applications where safety &​ security is a priority
Helps keep broken glass in place, decreasing risk of injury
Reduces chance of injury & property damage
Excellent solar performance, including heat, glare and UV rejection
Superior optical clarity
Advanced adhesive formulation
Deters "smash & grab" thefts in businesses
Dow Corning attachments available for added security
Works 24 hours a day, 365 days a year
Blocks Nearly 100% of Damaging Ultraviolet Light

The name says it all - Armorcoat is a strong, impact-resistant, resilient film that helps protect people and property from the hazards of broken glass and will provide a significant level of protection again "smash and grab" thieves.

And since Armorcoat is available in both clear and tinted (solar control) versions, many homeowners find it an attractive, affordable upgrade to simply installing sun control film.

Manufactured by Bekaert Specialty Films, a world leader in safety film, Armorcoat has met impact requirements for some of the most stringent tests in the industry and has been field tested for over 20 years. Armorcoat is made from only the highest quality materials, such as tough, high tensile polyester and ultra strong mounting adhesives - available in thicknesses ranging from 4 to 14 mil, with thicker films offering greater protection.
---
Few things are as unsettling as the helpless feeling of violation experienced by a homeowner or business owner whose sense of security has been destroyed by someone they don't know, and whom they haven't invited into their lives. Safety at home and the workplace is top priority!

​If you are someone who is concerned with heat intrusion or fading of your furnishings, it is reasonable to consider learning about upgrading to the added benefits of solar safety and security film as well. ​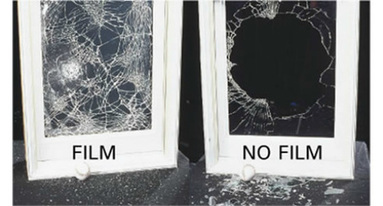 Call today and see how affordable an installation of security film can be for your home, office or other commercial building.
Police departments and community associations alike are recommending Security Film as a strong deterrent to burglary simply because the film makes it so much harder to gain entry into a protected home or business via the glass areas.
We can also install Dow Corning attachments for added security as used on government buildings such as the Pentagon and the U.S. Capital Building. Call for more information!
Anti-Graffiti Film
Graffitigard protective window films are the simple solution to costly vandalism, wear and tear. These window films are a tough clear protective barrier, professionally installed to smooth surfaces. This unique film is designed to protect glass, Plexiglas, metal and other non-porous surfaces from costly wear, tear & graffiti vandalism.

Graffitigard's special mounting adhesive makes it easy to remove and replace if damage does occur, which is more reasonable than having to replace glass or elevator doors that have been tagged or etched by vandals! Protect your public surfaces from deliberate and unintentional damage with Solar Gard graffiti protective films!

---
​
West Coast Custom Tint & Screens, Inc.
Oceanside, California
(760) 471-8939 or (858) 748-8806
License # 730761